According to IEC60695-2-2, IEC60695-11-5, IEC62368-1 and GB/T-5169.5, ZY-3/ZY-3S needle flame test equipment is applied in the production and quality control department of lighting products, hyperpiesia electrical apparatus, domestic appliance, machine electric appliance, electrical machine, power tool, electronic instrument, electrician instrument and technical equipment. Also, the apparatus is suitable for the industry of insulation material, engineering plastics and solid combustible material.
Specifications:
• Angle of burner: 45° (when in test) / 0° (when adjust the flame's height)
• Needle flame burning time: 0~999.9s±0.1s (adjustable, 30s in general)
• After-flame time: 0~999.9s±0.1s, auto record and pause manually
• Height of flame: 12mm±1mm (gauge is included)
• Gas: 95% butane
• Test range of temperature: 0~1000℃
• The temperature rises from 100℃±2℃ to 700℃±3℃ within 23.5 seconds±1s
• Thermocouple: Φ0.5mm K type
• Applied with touch screen and remote control
• Number of burning times for a single test: single or multiple times can be set
LISUN ZY-3 needle flame tester can run multiple times flame test in a single test automatically according to the Annex S S.1 of the IEC62368-1 standard: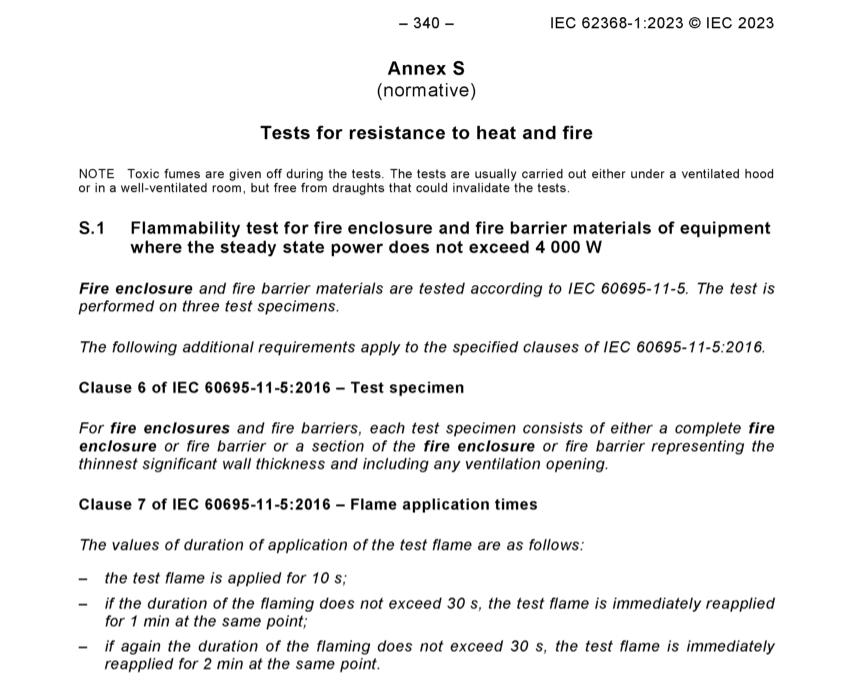 To save the delivery cost for the oversea market, LISUN designed a compact version needle flame test equipment weighing less than 50kg. (Customer need to prepare additional ventilation system for ZY-3S)
What is a needle flame test?
The full name of IEC 60695-2-2 is Fire hazard testing Part 2: Test methods – Section 2 Needle-flame test. It was prepared by IEC technical committee 89: Fire hazard testing. The following is the related introduction of IEC 60695-2-2 Scope.
This section of IEC 60695-2-2 specifies a needle-flame test to simulate effect of small flames which may result from fault conditions within equipment, in order to assess by a simulation technique the fire hazard.It is applicable to electrotechnical equipment, its sub-assemblies and components and to solid electrical insulating material or other combustible materials.
What is flame retardant test methods?
In the case of horizontal needle flame test HB classification, the sample size is required to be 125mm in length, 13mm in width, and no more than 13mm in thickness. The sample is placed horizontally, the sample clamp is clamped to one end of the sample, and the ignition device is at a 45 degree angle to keep the flame position unchanged. Apply 30±1S to the other end of the sample holder, and place a metal mesh and a freely movable fixed frame horizontally under the sample holder, so that when the sample burns, the free end and the metal mesh are kept 10mm. […more…]
LISUN ZY-3 Needle Flame Test – After Sales Questions and Answers.
LISUN ZY-3 Needle Flame Test were in the market for more than 10 years, LISUN engineers service team already summary the most of the After Sales Questions and Answers in the above link. Please read it carefuly, you can solve the most of the problems by yourself if you have some questions while using the instruments. LISUN will be continue to update this pages and more FAQ can be found in this topic link. 

It was an essential product for manufacturing and research. I purchased it after confirming that it is a CIE/IEC certified product. The quality of the product is excellent and the satisfaction with the price is high. Employees are also satisfied with their response to repairs and after-sales services.

Tags:Needle Flame Test , ZY-3 , ZY-3S