Forehead thermometers is both medical product and electronic product. It only needs one or two seconds to complete a body temperature measurement, which is very suitable for use in public places, but also for the elderly, infants and other people. Then what standard should the forehead thermometers comply with medical standards meet? And how is it produced? What should be paid attention to during use?
1. The forehead thermometers need to meet the testing standards: JJF 1107, GB/T 21417.1-2008, GB 9706.1-2007
2. Matters needing attention for production:
The manufacturer must hold a medical license and measurement certificate. Hundreds of components such as ABS plastic shell, PCB circuit board, IC, Resistance, capacitance, infrared sensor, LCD, backlight and battery buckle, etc, are needed to produce a Forehead thermometer. And must choose ± 0.2 degree medical grade sensor chip. There are also strict requirements for production equipment and calibration before leaving the factory:
(1) Is there a precision constant temperature and humidity chamber?
When the whole machine is debugged, the infrared thermometer must be placed in the constant temperature and humidity chamber for more than 1 hour, so that the whole machine can only be adjusted when all the parts in the machine reach 25 degrees. If possible, it will be better to simulate high and low temperature, high and low humidity environment to test the product.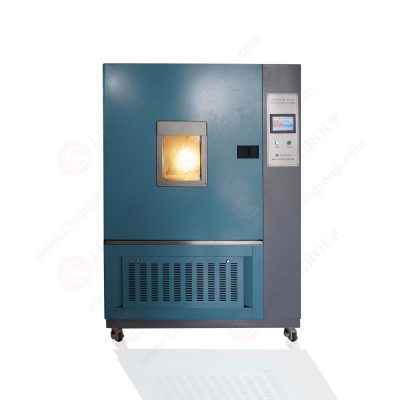 LISUN GDJS Series High and Low Temperature Humidity Chamber fully meets IEC 60068-2-1(GB/T2423.1) and IEC 60068-2-2(GB2423.2), etc. It can accurately adjust the temperature and humidity. 
(2) Is there a Black Body Infrared Temperature Calibration Source ("Black Body Radiation Source", also called "Black Body Furnace")?
All infrared temperature measurement products must use Black Body Furnace to calibrate the temperature accuracy before leaving the factory. The factories that produce infrared temperature measurement products usually have more than one Black Body Furnace.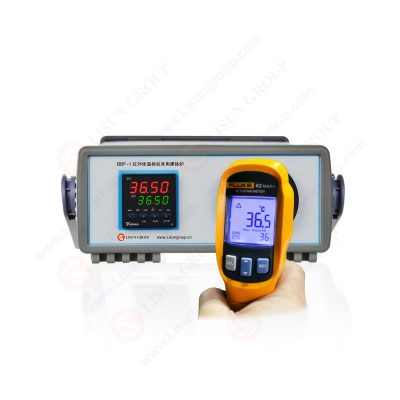 LISUN BBF-1 Black Body Furnace is designed according to GB/T 21417.1-2008, GB/T 21416-2008, etc. It is mainly used for the calibration of various electronic infrared ear thermometers and infrared forehead thermometers, and can also be used for the calibration of infrared body surface screening instruments. 
(3). Is there a Test Rack for the finished infrared thermometer?
During mass production calibration, in order to ensure the consistency and standardization of test distance, angle, test rack is necessary. At the same time, the test rack can also improve production efficiency. Some test racks are made of glass which is more economic, and some are made of aluminum which price is much higher.
(4) Other instruments and common tools
CNC precision adjustable power supply, oscilloscope, multi meter, etc. (Can also contact LISUN for these devices)
(5) Software adjustment equipment (Please decide whether it is needed according to your program)
Some programs are designed to use key and screen combination operation to achieve debugging and calibration, and some are pure hardware debugging and calibration. This method does not require additional professional debugging equipment, the production efficiency is low, and the consistency is not good.
Some programs reserve software interfaces and use special development and production tools and software to automatically debug and calibrate. This method must be supported by the original chip manufacturer. It was a bit troublesome at first, but later the production efficiency is high and the consistency is good. (If need to cooperate with the original factory or agent of the program, normally, you should sign a contract and pay in advance)
3. Matters needing attention when use:
First, perform temperature measurement according to the operation steps required in the instruction manual. In addition, infrared body temperature screening equipment in public areas needs to be calibrated regularly to ensure accurate and reliable test results. In addition to sent infrared body temperature screening equipment to laboratory for calibration, you can find the testing personnel of the measurement technical institution to bring the "Black Body Furnace" to the site to carry out technical services.
Lisun Instruments Limited was found by LISUN GROUP in 2003. LISUN quality system has been strictly certified by ISO9001:2015. As a CIE Membership, LISUN products are designed based on CIE, IEC and other international or national standards. All products passed CE certificate and authenticated by the third party lab.
Our main products are Goniophotometer, Surge Generator, EMC Test Systems, ESD Simulator, EMI Test Receiver, Electrical Safety Tester, Integrating Sphere, Temperature Chamber, Salt Spray Test, Environmental Test Chamber, LED Test Instruments, CFL Test Instruments, Spectroradiometer, Waterproof Test Equipment, Plug and Switch Testing, AC and DC Power Supply.
Please feel free to contact us if you need any support.
Tech Dep: [email protected], Cell/WhatsApp: +8615317907381
Sales Dep: [email protected], Cell/WhatsApp: +8618917996096