LISUN will irregularly update the software of LPCE-2(LMS-9000)Spectroradiometer & Integrating Sphere Test System. However, since each spectroradiometer LMS-9000 in the system has its own independent hardware data file, we need to back up the hardware data file before updating the software (The step 2 below). The software cannot be installed without the LMS-9000 hardware data file, and the use of the wrong LMS-9000 hardware data file will cause deviations in the test results.
1. Save the old software settings: Open the old software, click system configuration, take a photo used to make the same settings when reinstalling the software.
2. Back up the hardware data file from the old installation file: Open the old software installation folder C:\Program Files (x86)\Lisun\LMS-9000. Copy the following three files marked in red and blue to the same folder as the new LMS-9000B software (only need to COPY the one file marked in red for LMS-9000A).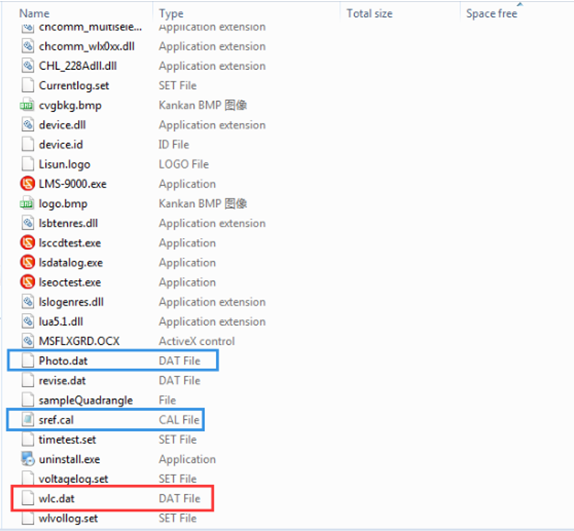 3. Uninstall and completely delete the old software: Uninstall the LMS-9000A/B software in the control panel or start menu, and then delete all files in C:\Program Files (x86)\Lisun\LMS-9000B.
4. Install the new software: Click the following LMS-9000A/B new software to install it (the red and blue hardware data files are from step 2).


5. Restore settings: Enter the system configuration interface of the new LMS-9000A/B software, and refer to the photos saved in step 1 to set.
6. Re-calibration: Refer to the Part 3 of installation video of LPCE-2 https://www.lisungroup.com/products/led-test-instruments/high-precision-spectroradiometer-integrating-sphere-system.html to re-calibrate, and then it can do normal test.
Lisun Instruments Limited was found by LISUN GROUP in 2003. LISUN quality system has been strictly certified by ISO9001:2015. As a CIE Membership, LISUN products are designed based on CIE, IEC and other international or national standards. All products passed CE certificate and authenticated by the third party lab.
Our main products are Goniophotometer, Surge Generator, EMC Test Systems, ESD Simulator, EMI Test Receiver, Electrical Safety Tester, Integrating Sphere, Temperature Chamber, Salt Spray Test, Environmental Test Chamber, LED Test Instruments, CFL Test Instruments, Spectroradiometer, Waterproof Test Equipment, Plug and Switch Testing, AC and DC Power Supply.
Please feel free to contact us if you need any support.
Tech Dep: [email protected], Cell/WhatsApp: +8615317907381
Sales Dep: [email protected], Cell/WhatsApp: +8618917996096
Tags:
LMS-9000C
,
LPCE-2(LMS-9000)