Recently, the General Administration of Quality Supervision, Inspection and Quarantine of the People's Republic of China and the National Standardization Administration approved and issued the version GB/T 4208-2017 "Enclosure Protection Level (IP Code)". This version will replace the old GB/T 4208-2008 version and it has been officially implemented on February 1, 2018.       
We have carefully studied the 2017 version of the standard, and the requirements for the "dustproof test" have basically not changed. The main change is that the "waterproof test" has added IPX9. That is, the 9th level of waterproof requirements has been added (previously, the waterproof level was divided into IPX1 ~ X8). The 9th level of waterproofing requirements is mainly the "high temperature/high pressure water spray" method. Taking small enclosure equipment as an example, it requires continuous high-pressure water spraying for 30 seconds under four states of 0 degrees, 30 degrees, 60 degrees, and 90 degrees to work normally. The new GB/T 4208-2017 edition is actually equivalent to the IEC 60529:2013 edition. In layman's terms, from February 1, 2018, the highest dust-proof and water-repellent rating of equipment is no longer the IP68, but has become IP69. The additional requirements of the standard are as follows: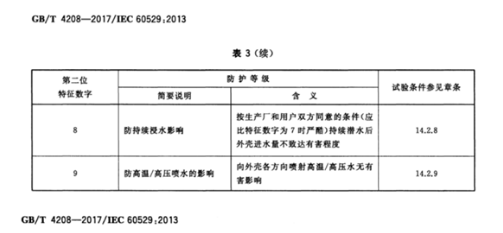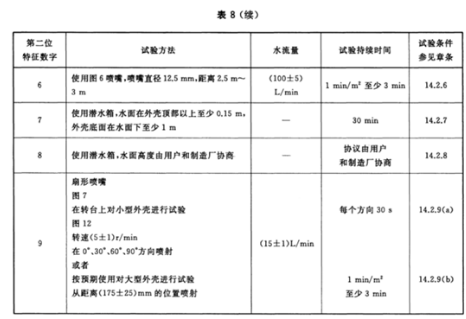 The application of IPX9 High Temperature Pressure Jet Waterproof Test Chamber:
According to IS020653 and other standards, it simulates the high-temperature and high-pressure steam cleaning process to conduct spray test on auto parts. During the test, the samples were placed at four angles (0°, 30°, 60°, and 90°) to perform high-temperature and high-pressure water jet testing. The device uses imported water pumps, which greatly guarantees the stability of the test. The IPX9K test chamber has passed the inspection and certification of a third-party measurement unit.
Standard of IPX9 High Temperature Pressure Jet Waterproof Test Chamber:
JL-9K1L High Temperature & Pressure Jet Waterproof Test Chamber is according to IEC60529:1989 +A1:1999 +A2:2013 《Degrees of protection provided by enclosures(IP Code)》, GB4208, DIN40050-9,GB7000.1,ISO20653 and VW80000 for protection level IPX9K testing.
IPX9K High Temperature Pressure Jet Waterproof Test Chamber function introduction:
1. The IPX9K high temperature pressure jet waterproof test chamber can be used in workshops, laboratories and other places to do [IPX9K] waterproof level test.
2. Box structure, water recycling, energy saving and environmental protection, no need to build a special waterproof laboratory, saving budget.
3. There is a large transparent window (tempered glass material) on the door, and LED lighting is installed in the box to facilitate observation of the internal test situation.
4. The test time can be set on the touch screen, and the setting range is: 0-999min (adjustable).
The JL-9K1L High Temperature Pressure Jet Waterproof Test Chamber produced by Shanghai LISUN based on years of experience fully meets the above standards. The product pictures are as follows: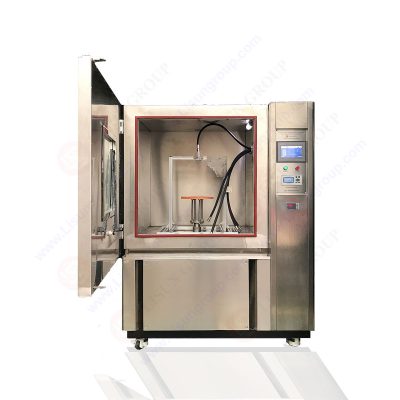 Lisun Instruments Limited was found by LISUN GROUP in 2003. LISUN quality system has been strictly certified by ISO9001:2015. As a CIE Membership, LISUN products are designed based on CIE, IEC and other international or national standards. All products passed CE certificate and authenticated by the third party lab.
Our main products are Goniophotometer, Surge Generator, EMC Test Systems, ESD Simulator, EMI Test Receiver, Electrical Safety Tester, Integrating Sphere, Temperature Chamber, Salt Spray Test, Environmental Test Chamber, LED Test Instruments, CFL Test Instruments, Spectroradiometer, Waterproof Test Equipment, Plug and Switch Testing, AC and DC Power Supply.
Please feel free to contact us if you need any support.
Tech Dep: [email protected], Cell/WhatsApp: +8615317907381
Sales Dep: [email protected], Cell/WhatsApp: +8618917996096
Tags:
JL-9K1L