LM-79 is a standard defining how to test the performance of an LED light or fixture. An LM-79 test is conducted at a time and a single temperature. There is thus no indication of how the performance of the test device (DUT) may vary over time or how various environmental conditions might influence it. The testing techniques typically divide into two ways, integrating sphere and goniophotometer.
LM-79 measurements are mostly utilized for light measurement following human eye perception (a process called photometry or photometric measurement). The Standard specifies testing equipment, techniques, and circumstances necessary to evaluate the light output and electrical power of LED products accurately and reproducibly.
Is LM-79 for light fittings or discrete LEDs?
LM-79 applies exclusively to full LED or LED lights because LED lights will always have the driver and related hardware like disposers, reflectors, body casing, heatsink, etc. We also often talk about "circuit watts," which means the power consumption of the whole fitting, not simply the LEDs.
The optical measurements also apply to the output of the mounting after any diffuser, reflector, or optical device has passed through the lights. So, we may refer to "luminaire lumens" as the luminaires' output, rather than "LED Lumens" as the output of the LEDs before any lens or diffuser is taken into consideration.
How is a photometric LM-79 test performed?
You should connect the device under test (DUT) to an adequate, steady power source in a draught-free area before you can start the test. The ambient temperature should be 25o, and the fitting should be powered up to stabilize its temperature. This usually takes between 30 minutes and 2 hours.
LM-79 provides comprehensive instructions on how to set up, calibrate and operate the equipment to be used. In summary, LM-79 covers two major kinds of equipment – ​​​​spheres and goniophotometers. But here you will let to know about goniophotometer mainly.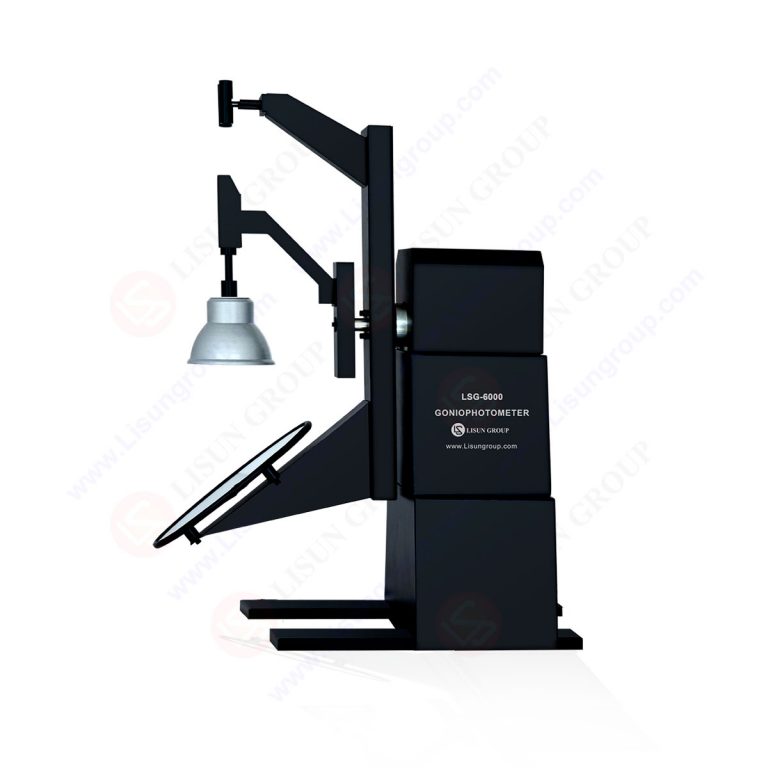 Goniophotometer
A goniophotometer monitors a lamp's light dispersion. Aside from total luminous flux, certain sensors can also detect the spectrum content of light and how it changes around the item being tested (DUT).
Goniophotometers' design, size, and form vary greatly, from tiny desktop versions to devices 15-20m in diameter. LM-79 only allows the use of type C goniophotometers to guarantee accuracy and consistency. A sensor rotates around the DUT on various axes, measuring the intensity of light it emits every few degrees. LISUN has the best goniophotometers for LM-79 measurements.
These sensors are fixed while the DUT moves relative to them in goniophotometers (types A and B). Lighting designers use this data to simulate the impact of the DUT in various situations. For example, moving air around an LED light fixture cools it, affecting its performance, resulting in errors. In type C goniophotometers, just the sensors move, minimizing this impact.
The goniophotometer is used to measure light output in LM-79 (a process called goniophotometry). Goniophotometers measure light intensity (candela or cd) from all angles surrounding a light source. Goniophotometers are used to measure light generated in certain angular orientations.
The luminaire's remaining light must be filtered out (usually using carefully positioned baffles and light-absorbing materials). The goniophotometer's candela distribution of light source intensity distribution measures the light source's candela value distribution. It's like a light sphere reflecting the topic.
Lisun Instruments Limited was found by LISUN GROUP in 2003. LISUN quality system has been strictly certified by ISO9001:2015. As a CIE Membership, LISUN products are designed based on CIE, IEC and other international or national standards. All products passed CE certificate and authenticated by the third party lab.
Our main products are Goniophotometer, Integrating Sphere, Spectroradiometer, Surge Generator, ESD Simulator, EMI Receiver, EMC Test Equipment, Electrical Safety Tester, Environmental Chamber, Temperature Chamber, Climate Chamber, Thermal Chamber, Salt Spray Test, Dust Test Chamber, Waterproof Test, RoHS Test (EDXRF), Glow Wire Test and Needle Flame Test.
Please feel free to contact us if you need any support.
Tech Dep: [email protected], Cell/WhatsApp:+8615317907381
Sales Dep: [email protected], Cell/WhatsApp:+8618917996096
Tags:
LSG-6000