In the field of lighting, fluorescent lamps as a traditional light source have been widely used in the past few decades and have been widely used in commercial and civilian places such as shopping malls, schools, offices, parking garages, and factories. Fluorescent lamp is essentially a low-pressure gas discharge lamp, which exhibits negative resistance characteristics during operation, and requires a matching electronic ballast during operation to realize the basic functions of high-pressure ignition and stable operation of fluorescent lamps. To replace the traditional fluorescent tube with a new type of LED tube, the original electronic ballast needs to be removed or compatible with it during the installation process.
According to the actual application of LED tubes, the UL certification standard divides LED tubes into four categories: Type A, Type B, Type C, and Type A+B. Among them, Type A is generally used to directly replace fluorescent tubes and can work with traditional fluorescent lamp electronic ballasts. There is no need to change the structure and circuit of the lamp when replacing the tubes. For Type A LED tubes exported to the United States, the current certification company adopts UL1993 self-ballasted lamps, UL8750 LED equipment requirements and UL Subject 1598C-Supplement SA as additional requirements for testing.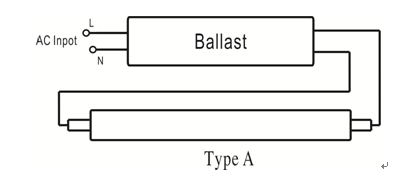 The Underwriters Laboratories (UL) updated its technical resolution on Type A LED tubes for direct replacement of fluorescent tubes on August 25, 2016. This latest technical resolution replaces the previous version issued on February 20, 2015. It is planned to be officially incorporated into the UL1993 (self-ballasted lamps and adapters) standard at the end of 2016.
This latest technical resolution breaks through the technical bottleneck of Type A LED tubes entering the North American market in several aspects, and is expected to enable UL to help more LED manufacturers quickly enter the North American market. Directly replace the North American market for a large number of double-ended straight (T12, T10, T8, T5, etc.) lamps, U-shaped lamps, single-ended CFL lamps and ring lamps, etc.
The specific content of the latest technical resolution update includes: the test adopts constant current power supply mode to replace the original constant voltage power supply mode and cancels the original current limit; directly replaces the input test and temperature rise of the Type A LED tube of the fluorescent tube Test parameters such as test, leakage current test, harmonic distortion test, LED tube voltage and current, etc., all need to be connected to a 25kHz reference ballast (electronic) for testing.
According to this updated technical resolution of UL, Shanghai LISUN has designed and developed the LED high-frequency reference constant current source HCS-109A (adjustable LED high-frequency reference electronic ballast), which is used for Type A LED (T8) lamps certification testing and product development testing. This product fully meet the latest technical resolutions and requirements of UL1993. By adjusting the output current and frequency range of each tested LED tube sample, the tested LED sample tube can work under a stable 25kHz constant current output power supply condition.
The main technical indicators of HCS-109A
1. Input power: 200V~240V 50/60Hz
2. Input power: 80W max
3. Output current: 130mA~400mA continuously adjustable in three stages
4. Output current stability: display current value +/- 1% (after warm-up and it is stable)
5. Total harmonic distortion of output current: THD <2.5%
6. Output frequency: 25kHz< +/-2.0% adjustable
7. Output frequency stability: display frequency value +/- 0.3kHz
8. Use environment: 0℃ ~ 40℃ RH< 85%
UL Meihua Certification Co., Ltd. and its designated UL certification laboratories have taken the lead in using HCS-109A LED high-frequency reference ballast for the test equipment of Type A and Type A+B lamps after the UL1993 standard update now.
Lisun Instruments Limited was found by LISUN GROUP in 2003. LISUN quality system has been strictly certified by ISO9001:2015. As a CIE Membership, LISUN products are designed based on CIE, IEC and other international or national standards. All products passed CE certificate and authenticated by the third party lab.
Our main products are Goniophotometer, Surge Generator, EMC Test Systems, ESD Simulator, EMI Test Receiver, Electrical Safety Tester, Integrating Sphere, Temperature Chamber, Salt Spray Test, Environmental Test Chamber, LED Test Instruments, CFL Test Instruments, Spectroradiometer, Waterproof Test Equipment, Plug and Switch Testing, AC and DC Power Supply.
Please feel free to contact us if you need any support.
Tech Dep: [email protected], Cell/WhatsApp: +8615317907381
Sales Dep: [email protected], Cell/WhatsApp: +8618917996096
Tags:
HCS-109A