This customer is specializing in the production of LED lamps manufacture in Malaysia. This company has been established for more than 20 years. This customer learned about our equipment when our engineers went to Malaysia to do installation and training for customers. This customer are always aware of our products. The luminaires of this customer were sent to the third-party testing agencies for testing. Now, the production volume is relatively large, and the customers are not very confident about the results of third-party testing. So they decide to buy the device to do the test by themself. After a period of getting information, the customer placed a set of LPCE-3 spectrometer & integrating sphere test system in our company.
After our equipment arrived at the customer's factory, we immediately arrange our engineer to their factory for installation and training. Although it is the first time of cooperation, our engineers communicate with customer without any obstacles and get along well with customers. After the installation and training, the customer is very satisfied with our service and our equipment. The following is the questionnaire filled by the customer.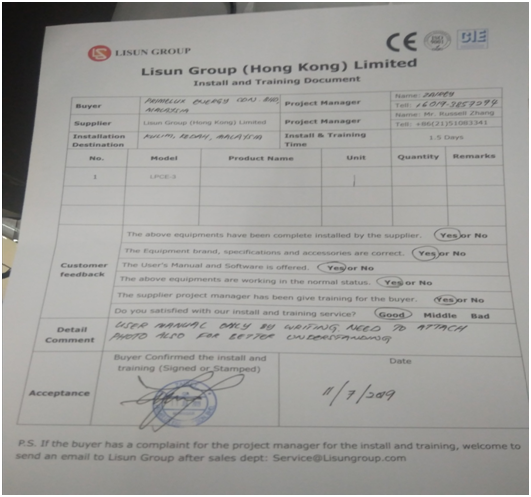 The following picture is a photo of the engineers and customers at the factory:
Lisun Instruments Limited was found by LISUN GROUP in 2003. LISUN quality system has been strictly certified by ISO9001:2015. As a CIE Membership, LISUN products are designed based on CIE, IEC and other international or national standards. All products passed CE certificate and authenticated by the third party lab.
Our main products are Goniophotometer, Surge Generator, EMC Test Systems, ESD Simulator, EMI Test Receiver, Electrical Safety Tester, Integrating Sphere, Temperature Chamber, Salt Spray Test, Environmental Test Chamber, LED Test Instruments, CFL Test Instruments, Spectroradiometer, Waterproof Test Equipment, Plug and Switch Testing, AC and DC Power Supply.
Please feel free to contact us if you need any support.
Tech Dep: [email protected], Cell/WhatsApp:+8615317907381
Sales Dep: [email protected], Cell/WhatsApp:+8618917996096
Tags:
LPCE-3